The January 2019 Cyber Expo
January 10, 2019 (Thu) 11:00 AM US/Eastern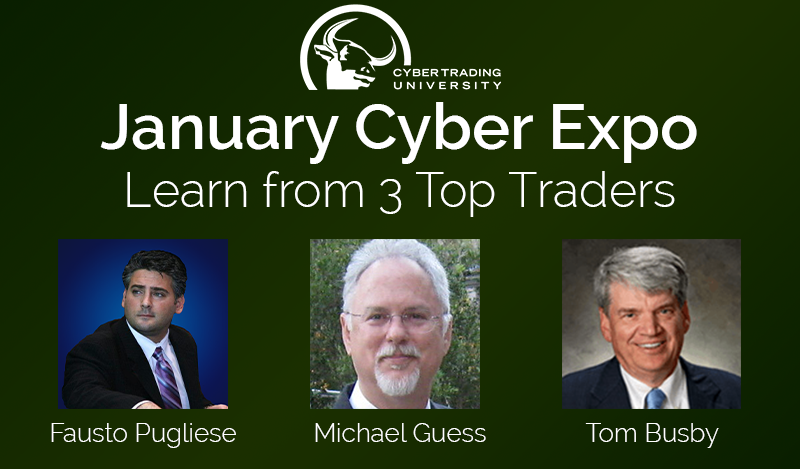 11:00 am - 12:00 pm ET - Fausto Pugliese from Cyber Trading Unviversity

Presentation: How to Trade and Profit BIG During Volatile Market Conditions
Fausto will explain how you, as a small independent trader, can stay alive and actually thrive in a game that's dominated by the "Big Boys." Market makers employ an extensive use of tricks and traps to maintain their profitable edge over the public. Fausto has developed a powerful trading system that actually spots and rides the coattails of these traders and market makers so that you can stay on the right side of the market.

12:00 pm - 1:00 pm ET - Michael Guess from TradeSafe

Presentation: Have it Both Ways: Steady 2%-4%+ Average Daily ROI as Well as Home Run Days
- How to confidently and easily enter and exit your trades to generate consistent returns
- How to release the stress and anxiety in your daily trading and become confident with your trading
- How to unlock the mindset of the professional trader that's hiding inside of YOU right now
- How to finally discover the simple method to trade with the highest profit potential and
lowest risk

1:00 pm - 2:00 pm ET - Tom Busby from Diversified Trading Institute

Presentation: 67% Accuracy: 4 Chart Patterns Every Trader Should Know
Learn 4 chart patterns every trader should recognize in the market. There is one question every trader must ask themselves when they look to trade the market. The question is: Should I be Long, Short, or Out of the market? These 4 patterns that every trader should know will show you how to eliminate one of those choices, increasing accuracy to 67%.
This is a past event and is no longer available for registration.